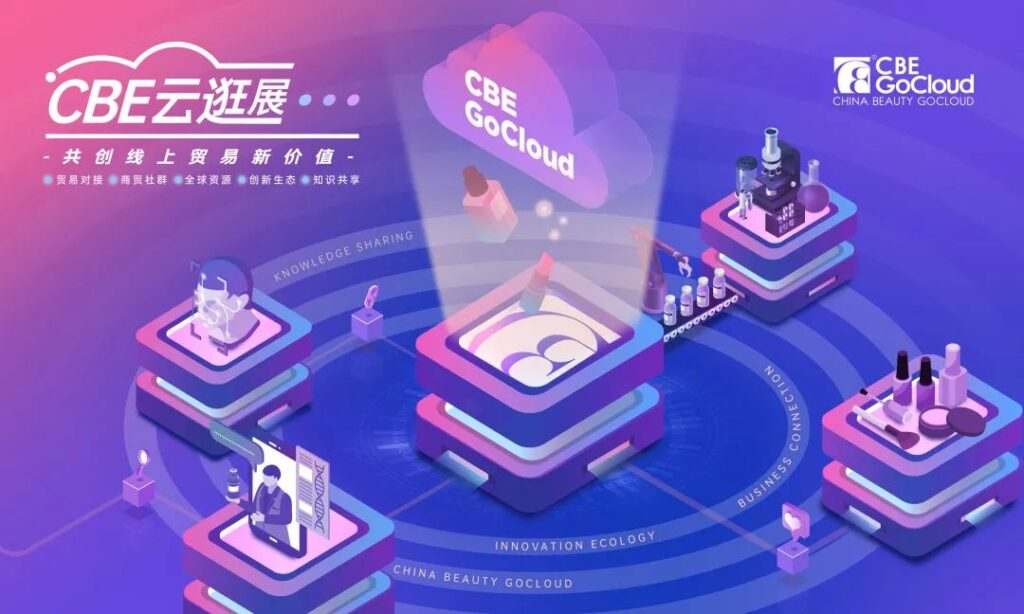 CBE's Latest Products June event had over 10,000 new products over a span of 3 days. The GoCloud platform had close to 1 million visits, adding 50,000+ trade leads.
Thank you for reading this post, don't forget to subscribe!
《2022 Beauty Trend Insights 》conducts a deep analysis and provides insights into the June event. The event covered cosmetics, professional line, new formulas, latest raw materials, innovative packaging, etc. Concurrently, buyer behavior is examined to gauge the market direction.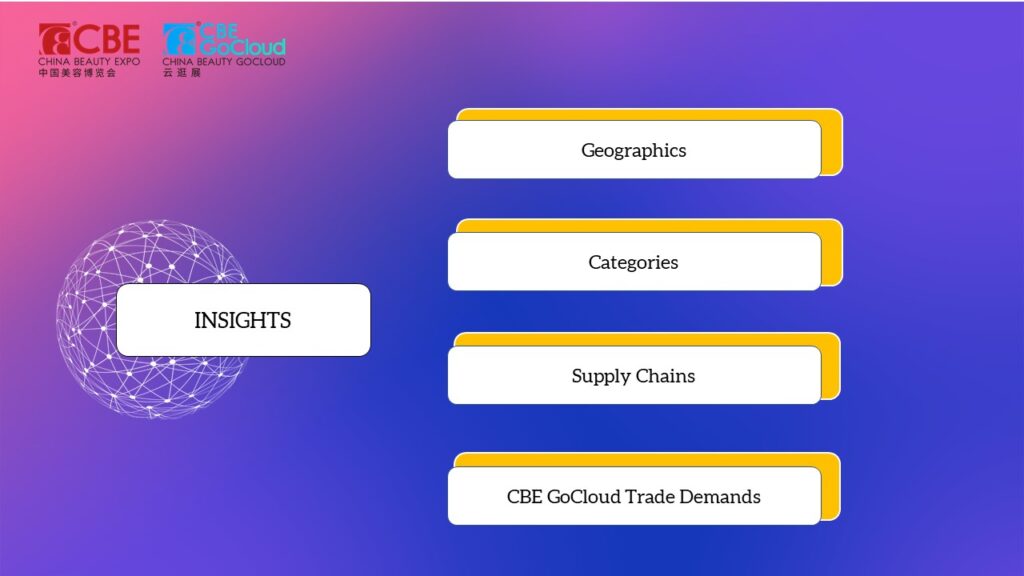 1, Judging by the numbers from the Latest Products
June event, domestic products account for 57%, Whereas Imported products account for 43%.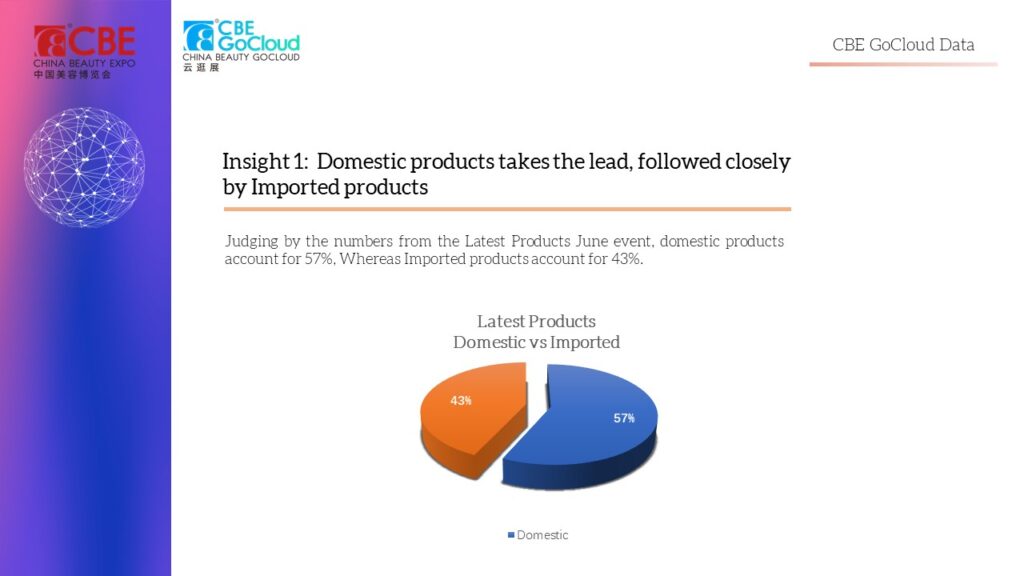 2, Japanese, Korean and French products are highly active
Beauty companies from over 40 countries around the world participated in the CBE Latest Products June event. Among them, Japan, South Korea, France, United States, and Italy took the top spots, which to a certain extent reflects the current state of beauty brands in China's market.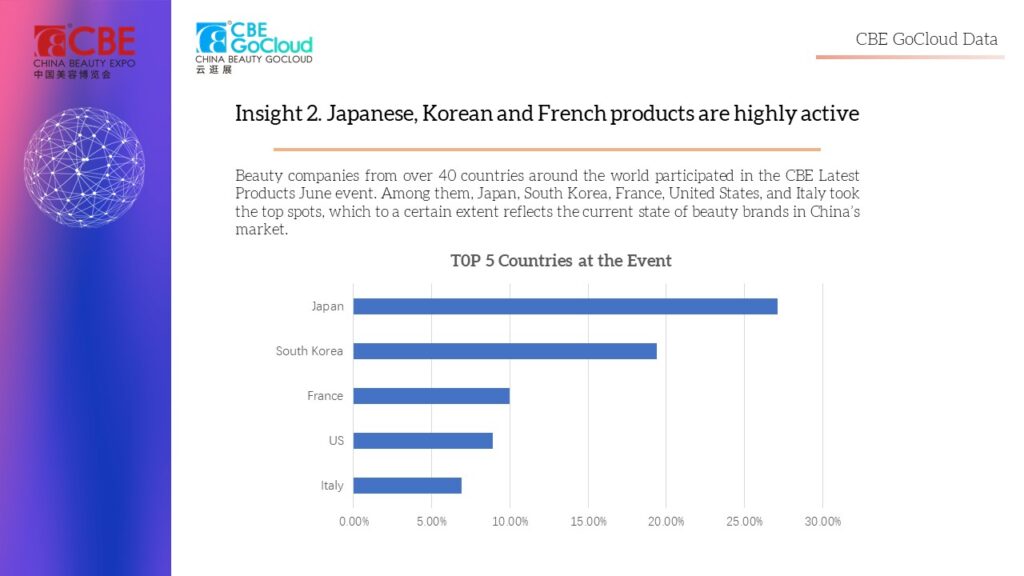 3,Skin Care dominates and Toiletry products are performing well
Among all the products, skin care accounted for the largest at 29.35%; Toiletry products accounted for 19.83%, ranking second; Color cosmetics products came in third for 9.38%.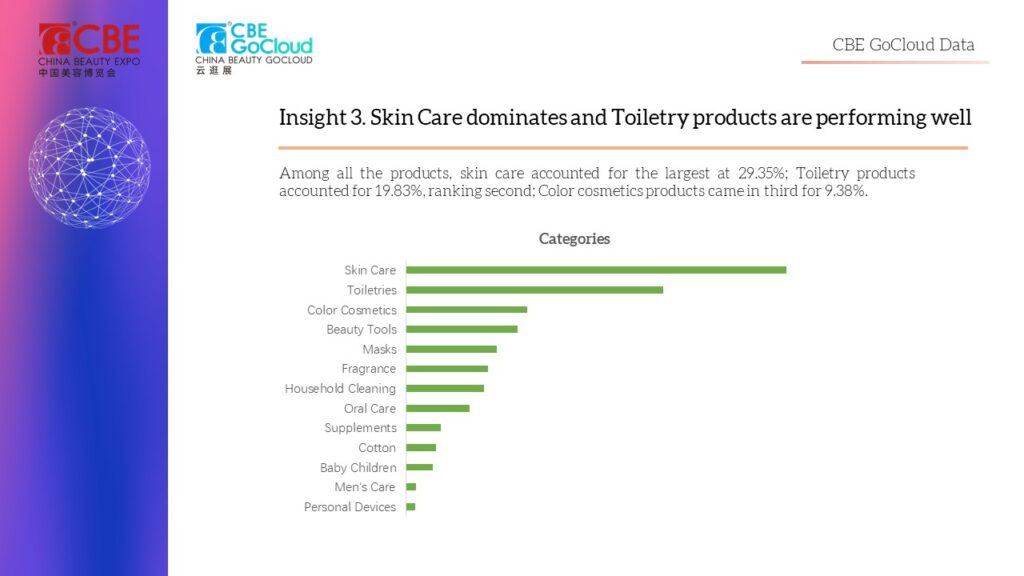 4,Essence, shampoo, and body care products holds top spot
Among the sub-categories, the number of essence products accounted for the highest proportion, followed by shampoo/conditioner, body cleansing & care.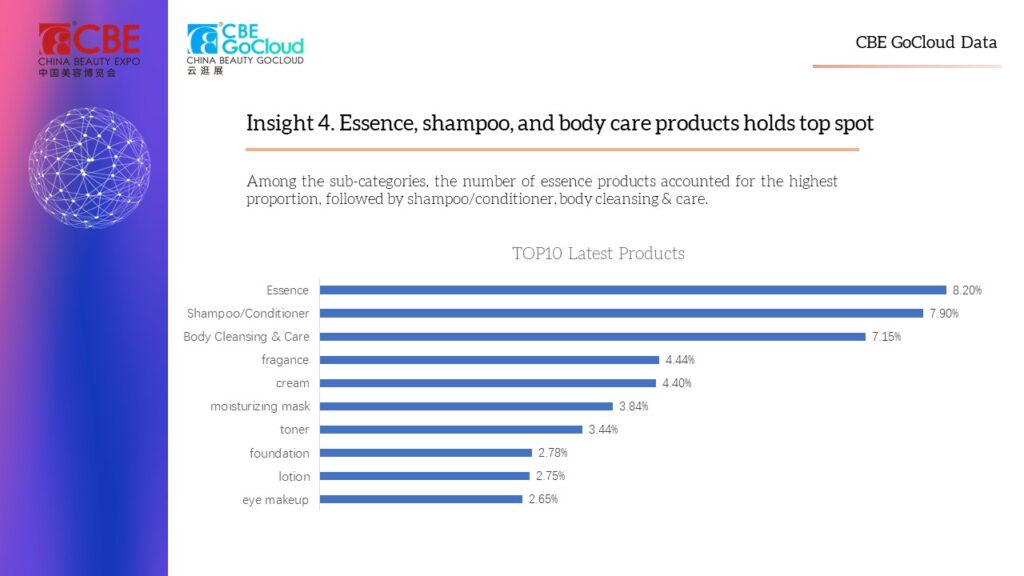 5,Spending surge, skin care and toiletries performing well
Under skin care, essence, cream, and toner showed up with the most latest products, which is related to consumers spending surge, choosing higher priced items.
Shampoo/conditioner still dominates the toiletries, and it is worth noting that hair & scalp care products are on the rise.
For color cosmetics, foundation and eye makeup dominates. Under the pandemic, eye makeup is becoming more and more popular.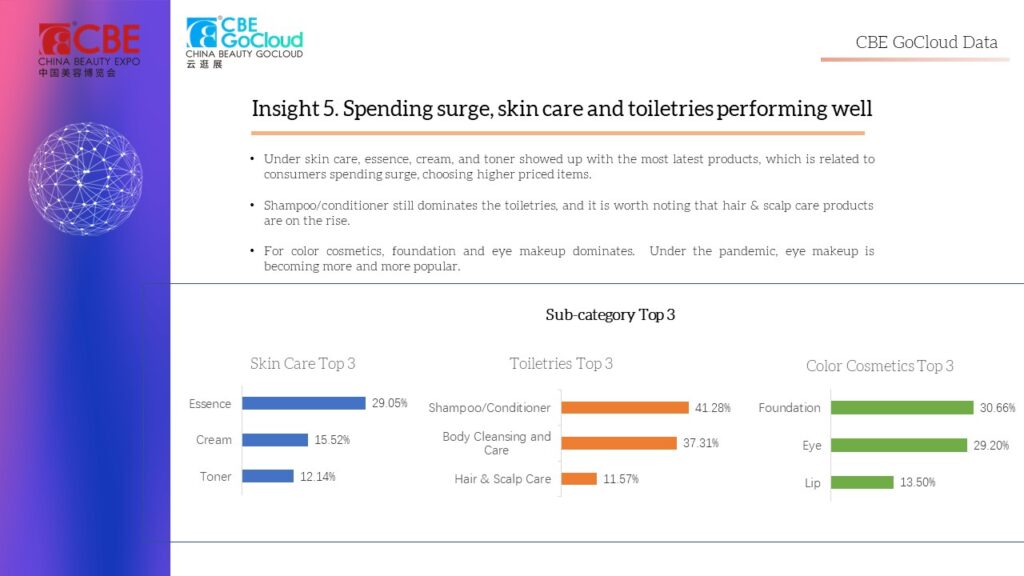 6,Skin care upgrade, competition between essence and cream
For skin care, consumption has been upgraded significantly. Essences and creams with high customer unit prices have attracted the attention of brand enterprises, and the number of new products has increased. Essence and cream products are mainly concentrated in the price range of 100-300 RMB, but products over 500 RMB should not be underestimated; Toners tend to be priced at 100-200 RMB.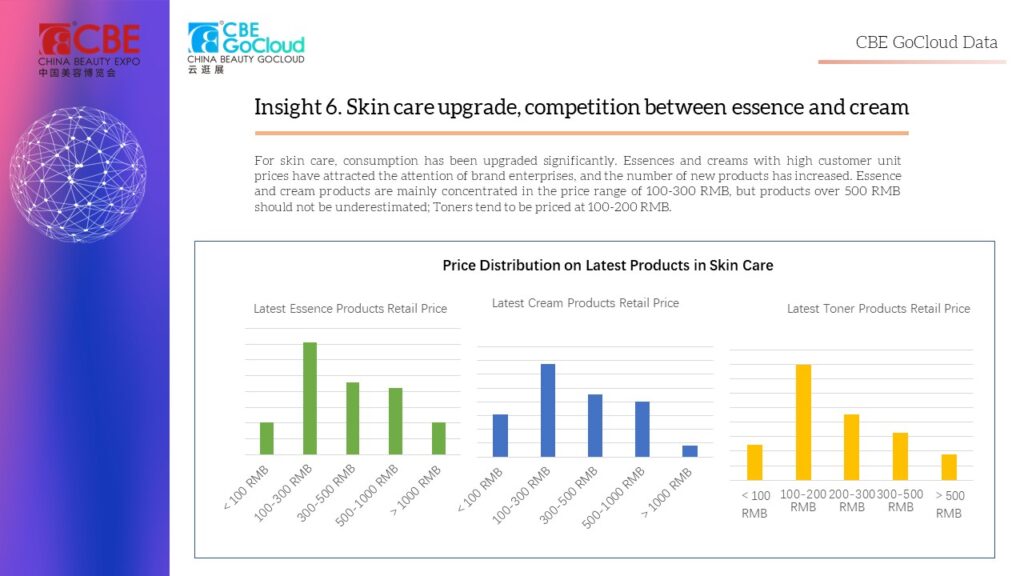 7,Toiletry products are gradually becoming high-end, and hair/scalp care is driving the high-end segment
Among the top three sub-categories in toiletry products, the main price range for the latest products in shampoo/conditioner is 100-200 RMB, and the trend of high-end is obvious; body cleaning & care is concentrated on products below 100 RMB.
It is worth noting that the price for hair/scalp care is mainly concentrated at more than 200 RMB, which will drive the high-end development trend in the toiletry sector.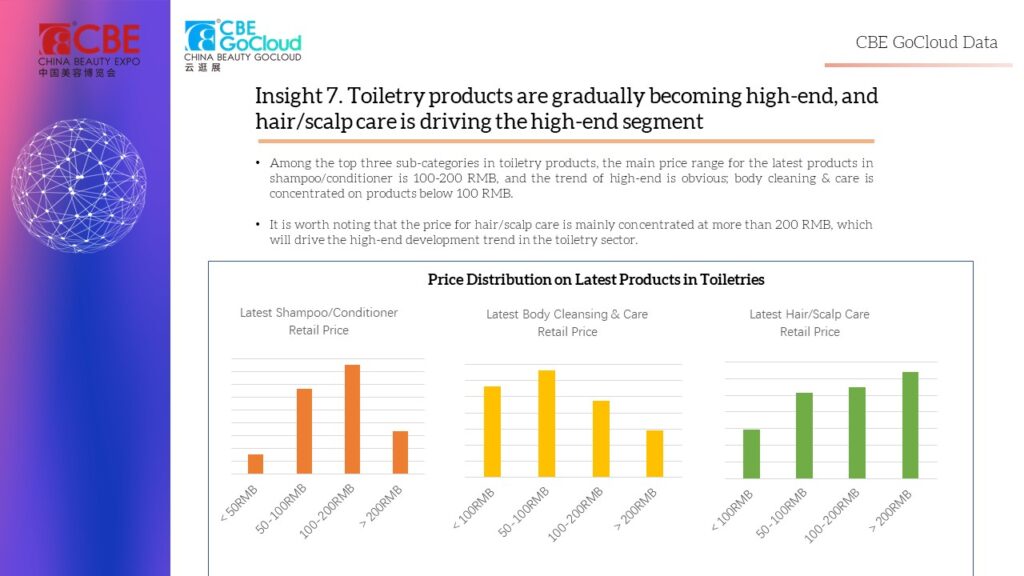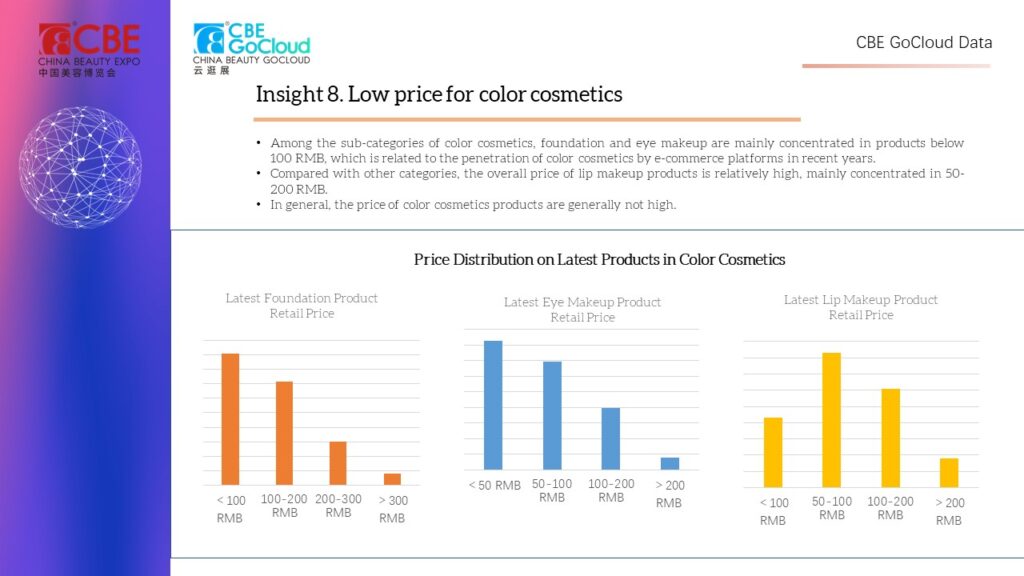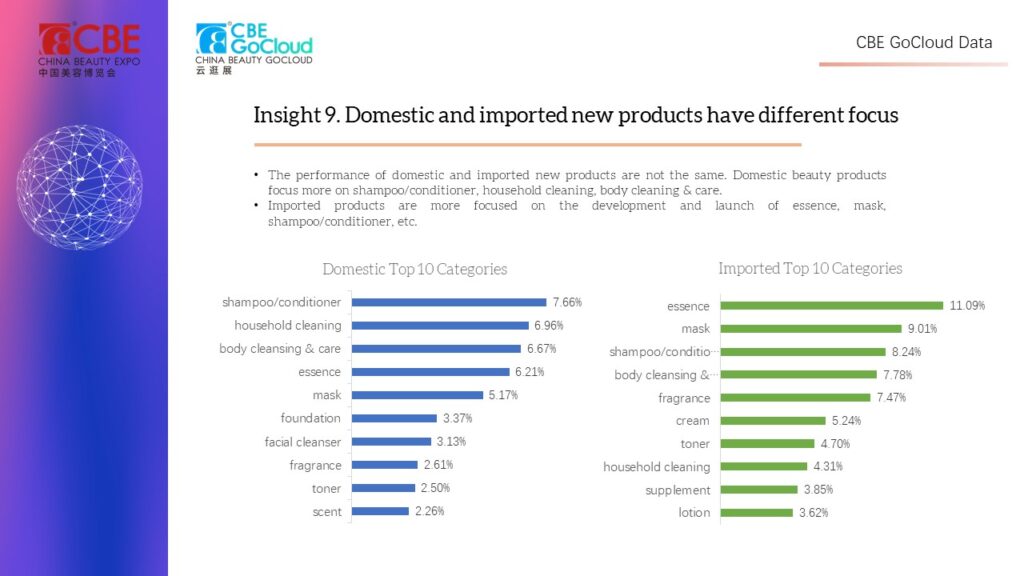 10,Professional beauty is all about its products and equipment
Professional beauty products and equipment are key.
Medical beauty-related products are developing rapidly.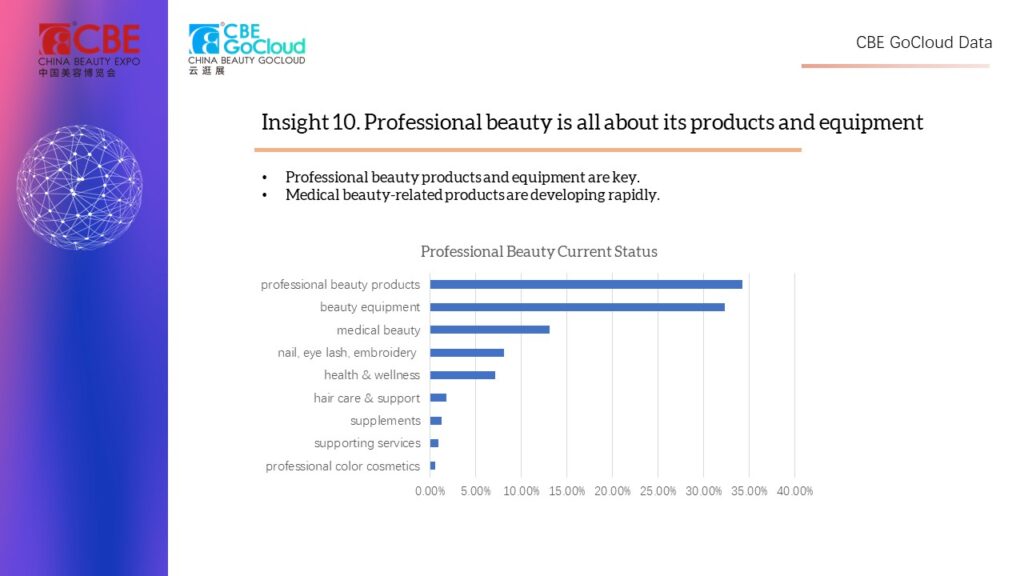 11,Packaging sits a top, loads of new products and rapid changes
With a relatively low entry into the category, an increase of new products and fast changes, packaging companies are particularly motivated. Plastic packaging has been matured.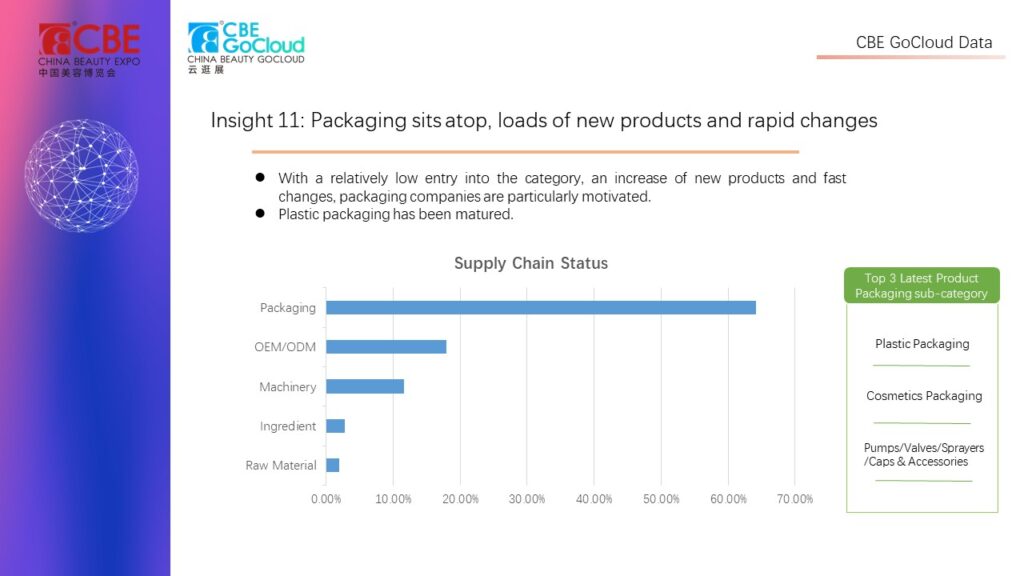 Top 3 Latest Product Packaging sub-category
Plastic Packaging
Cosmetics Packaging
Pumps/Valves/Sprayers/Caps & Accessories
12,OEM/ODM Personal Care takes #1
Large market for skin care and toiletries have pushed personal care to the top in the . OEM/ODM category.
It is worth noting that freeze-drying technology has begun to emerge.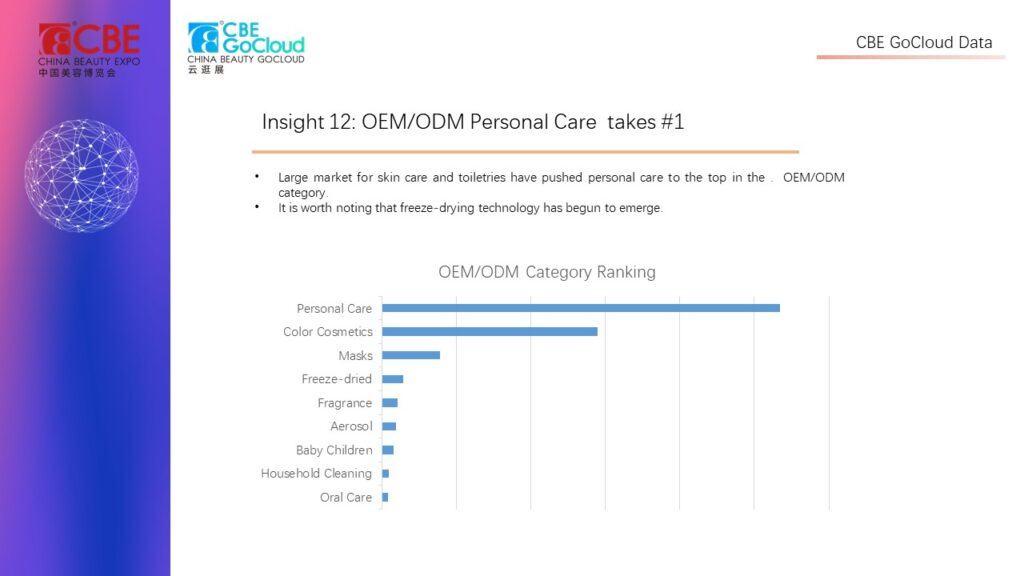 13,New products of toiletries are very popular, a large demand for essence skin care
During the latest products June event, there is a high demand for shampoo/conditioner, personal care and essence.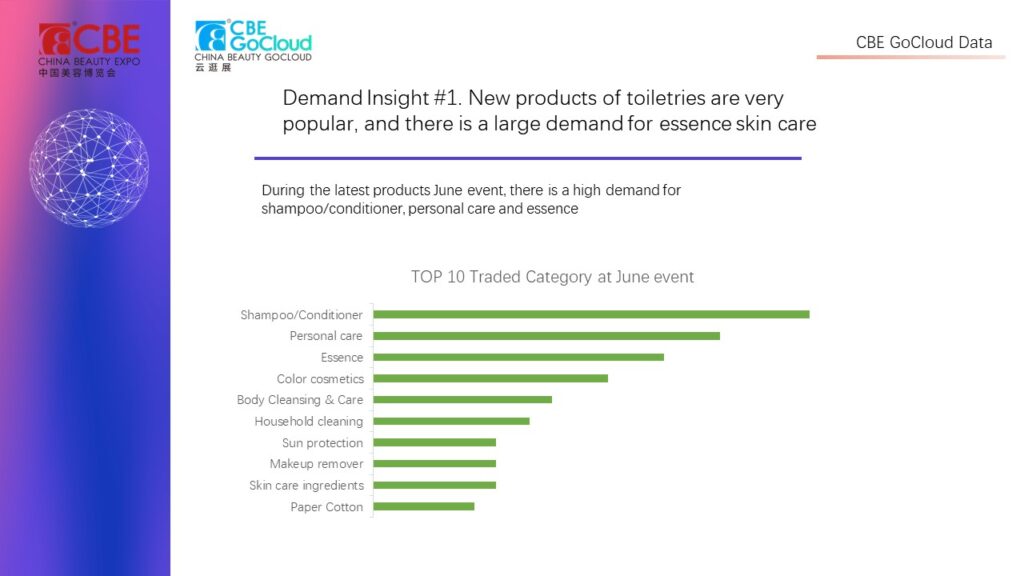 14,Skin care & toiletries look towards efficacy
Professional buyers pay more attention to efficacy in skin care and toiletries;
The demand for new products/new technologies on the supply chain side is also more inclined to the efficacy category.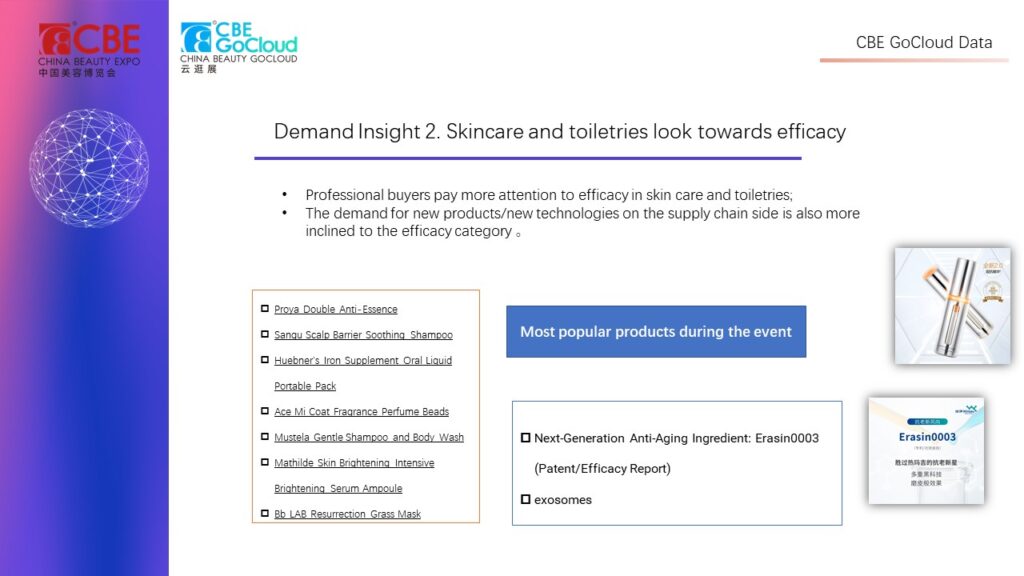 2022 Beauty Insight Trends
Domestic and imported new products are on a par, but market has strong demand for imported products.
Skin care upgraded to focusing on high unit price product – the emergence of new essence products.
Toiletries is becoming the industry's 2nd largest arena.
The market demands for skin care and toiletries pay more attention to efficacy.
2022 Beauty Trend Insights Data Source
Data of "2022 Beauty Trend Insights" derives from the CBE GoCloud platform during the June event, (June 22-24, 2022);
CBE GoCloud platform provides feedback on the development of companies in the beauty industry, as well as the behavior of B-end users, and does not involve sales information and consumer behavior.